"

Capturing existence one frame at a time. " - Amy Hutcheson
Profile 
   Amy Hutcheson is a conceptual photographer specializing in Fine Art, Portraits, Live Music, Event Photography and more. With over 20 years behind the lens Amy Hutcheson is a versatile and creative artist with an eye for unique portraits and art.  
Skills 
• 20+ Years of manufacturing experience  
• 20+ Years of Photography & Multimedia   
• Adobe Photoshop and InDesign   
• Proficient in Microsoft Word 
• Natural leader 
• Good at following directions 
• Able to learn quickly and master tasks 
• Ability to multitask and perform under pressure  
Education 
Front Range Community College  
Fundamentals in Multimedia Technology Certificate,  
Digital Imaging Certificate and Associate of General Studies Degree.  
Studied Graphic Design and Multimedia, Westwood College of Technology 2003-2004 National Dean's List, 28th Edition, Volume III 
Experience  
Resident Rock Star Photography / Photographer  
1999–Current  
Setting up and using complex photographic equipment. Using comprehensive photo editing software, creating graphics, organizing and designing group photo activities and more.  
Resident Rock Star Magazine / Creative Director  
2014–Current 
Keeping employees on track, making deadlines, processing photos, creating graphics, writing text content, arranging events, activities and much more.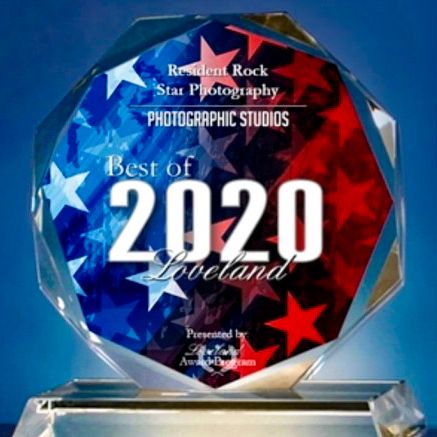 Resident Rock Star Photography Receives 2020 Best of Loveland Award 

Loveland Award Program Honors the Achievement 
LOVELAND January 26, 2020 – Resident Rock Star Photography has been selected for the 2020 Best of Loveland Award in the Photographic Studios category by the Loveland Award Program. 
Each year, the Loveland Award Program identifies companies that we believe have achieved exceptional marketing success in their local community and business category. These are local companies that enhance the positive image of small business through service to their customers and our community. These exceptional companies help make the Loveland area a l great place to live, work and play. 
Various sources of information were gathered and analyzed to choose the winners in each category. The 2020 Loveland Award Program focuses on quality, not quantity. Winners are determined based on the information gathered both internally by the Loveland Award Program and data provided by third parties. 
About Loveland Award Program 
The Loveland Award Program is an annual awards program honoring the achievements and accomplishments of local businesses throughout the Loveland area. Recognition is given to those companies that have shown the ability to use their best practices and implemented programs to generate competitive advantages and long-term value. 
The Loveland Award Program was established to recognize the best of local businesses in our community. Our organization works exclusively with local business owners, trade groups, professional associations and other business advertising and marketing groups. Our mission is to recognize the small business community's contributions to the U.S. economy. 
SOURCE: Loveland Award Program 
CONTACT: 
Loveland Award Program 
Email: PublicRelations@organization-notice.com 
URL: http://www.organization-notice.com 
### 
https://www.instagram.com/p/B8DCaQOJIuL/?igshid=inmvaqlxdp5z