German heavy metal veterans U.D.O., who were recently forced to postpone their planned 2023 North American tour, are pleased to reveal the rescheduled dates for Fall 2024. The journey will commence on September 6th in Frenchtown, New Jersey and makes its way through two dozen cities, closing on October 12th in Manchester, New Hampshire. Tickets, as well as VIP upgrades which include a meet and greet with U.D.O., a photo-op, autographs, and more are available at: national-acts.com/UDO.
Tickets purchased for the previous 2023 shows will be honored on their respective rescheduled dates. See all confirmed dates below.
U.D.O. Touchdown US/Canada Tour:
9/06/2024 Artie's – Frenchtown, NJ
9/07/2024 The Vault – New Bedford, MA
9/08/2024 Reverb – Reading, PA
9/11/2024 Southport Music Hall – Jefferson, LA
9/12/2024 Rise Rooftop – Houston, TX
9/14/2024 Rolling Oaks Event – San Antonio, TX
9/15/2024 Trees – Dallas, TX
9/17/2024 Rockhouse – El Paso, TX
9/18/2024 The 44 – Glendale, AZ
9/20/2024 DNA Lounge – San Francisco, CA
9/21/2024 Stages – Santa Ana, CA
9/22/2024 Whisky A Go Go – West Hollywood, CA
9/23/2024 Brick By Brick – San Diego, CA
9/25/2024 Rickhouse – Denver, CA
9/27/2024 The Vixen – Mchenry, IL
9/28/2024 The Forge – Joliet, IL
10/01/2024 Brass Monkey – Ottawa, ON
10/02/2024 Foufounes Electriques – Montreal, QC
10/03/2024 Lee's Palace – Toronto, ON
10/04/2024 Token Lounge – Westland, MI
10/05/2024 Q & Z Expo – Ringle, WI
10/06/2024 Shank Hall – Milwaukee, WI
10/09/2024 Blue Note – Harrison, OH
10/12/2024 Angel City Music Hall – Manchester, NH
U.D.O. released their latest studio album, Touchdown, in August via Atomic Fire Records. The record, which marks the musical reunion of singer Udo Dirkschneider and bassist Peter Baltes (ex-Accept) who joined the U.D.O. ranks earlier this year, continues to reap critical accolades globally and entered the official German album charts at #4 upon its first week of release marking the highest charting result in their homeland in their long-running career!
Preview and purchase Touchdown at THIS LOCATION.
"As the title track brings things to a close, hurtling along at light speed, one might wonder aloud how Udo Dirkschneider still has the energy for all of this. But he does, and Touchdown is an unpretentious, hard-hitting joy as a result." – Blabbermouth
"This is indeed a touchdown and deserves a gratuitous end-zone celebration by all involved. Impressive stuff from one of metal's elder statesmen." – Angry Metal Guy
"…quintessential and classic U.D.O., with Dirkschneider and friends delivering traditional speedy heavy metal with his whiskey gruff vocals at the forefront. If you're a fan, you will enjoy this album. Recommended." –Dangerdog
"If you want a solid heavy metal record featuring now two legends, Touchdown is a good example as to why these guys have rocked out for so long." – Heavy Music HQ
"Powerfully stomping and full of never-ending energy: Touchdown is a diversified and well-conceived album – even at such a late point of U.D.O.'s career!" – Metal Hammer (DE)
"U.D.O. at their best – traditional heavy metal the way it's meant to be!" – Legacy
"A masterclass in heavy metal while being aware of the world we live in!" – Rock Tribune
"Touchdown showcases impressively that U.D.O. are far from being on the shelf yet, but – like choice wine – keep becoming better and better over the years!" – Rock Hard
"The latest studio album Touchdown features the return of ex-Accept bassist Peter Baltes to the fold – and an array of material that showcases an artist willing to keep one foot in his conventional traditional, old-school wheelhouse, while also encouraging his younger musical compatriots to develop songs that contain some modern angst, power, and bite." – Dead Rhetoric
"I'm not sure how I went this far into the review without mentioning the inclusion of classic Accept bassist Peter Baltes, but his bass playing and backing vocals really do add an extra retro metal kick. I can't wait to hear what he'll contribute to U.D.O. in terms of songwriting on subsequent releases. Until then, I'll put on my helmet and put on my best game face. Touchdown gives me every reason to do so." – Defenders Of The Faith Metal
"It's not just good on disc; with the mix of speed, melody and aggression, most of these songs are bound to make a killing in the live setting. Great stuff." — The Metal Crypt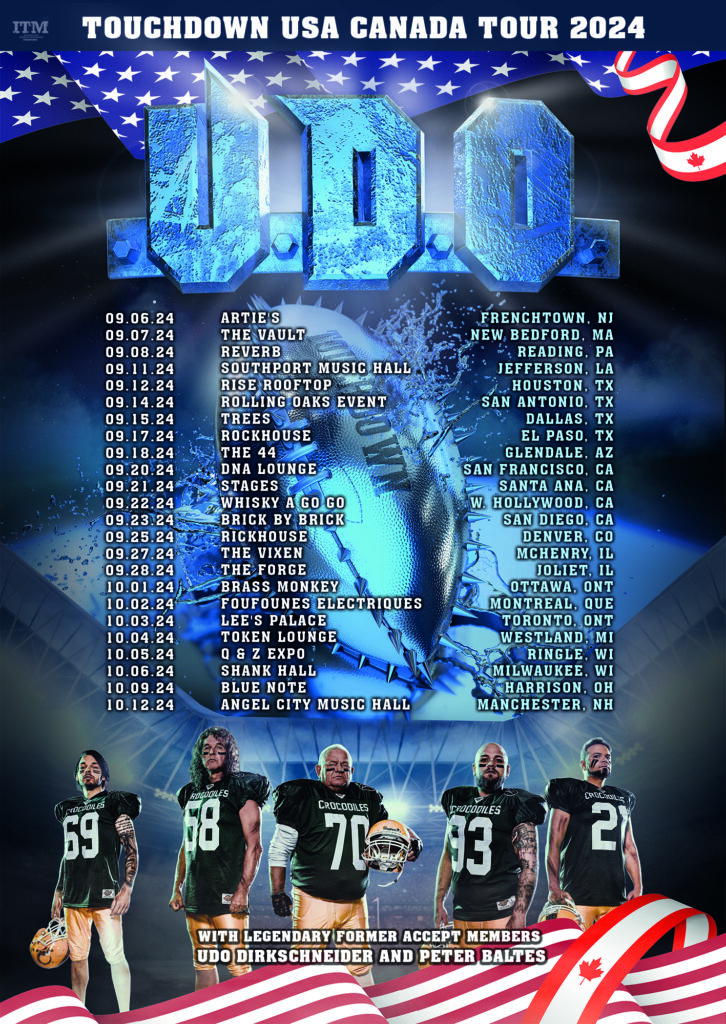 http://www.udo-online.com
http://www.facebook.com/udoonline
http://www.facebook.com/dirkschneiderofficial
http://www.facebook.com/udodirkschneiderofficial
http://www.instagram.com/u.d.o.official
http://www.twitter.com/udoonline
http://www.youtube.com/udotubetv
http://www.atomicfire-records.com
http://www.facebook.com/atomicfirerecords
http://www.instagram.com/atomicfirerecords
http://www.twitter.com/atomicfirerec
The post U.D.O. Announces Rescheduled Touchdown US/Canada Tour Dates For Fall 2024 first appeared on Earsplit Compound.