Hudson, New York's dynamic crust/sludge outfit HUSH – formed by former members of From Ashes Rise, Self Defense Family, Aficionado, Endicott, and others – will release their third album, The Pornography Of Ruin, tomorrow, and New Noise Magazine is hosting an exclusive stream of the record now as the band prepares for tour.
The Pornography Of Ruin showcases a more expanded view of HUSH's established sound by embracing more melodic elements, intense dynamic shifts, and previously unexplored vocal and atmospheric textures within each composition. Thematically, the record focuses on the concept of personal destruction and transformation; drawing heavily from vocalist/lyricist Charles Cure's experiences in the aftermath of a 2016 car accident that left him hospitalized and unable to walk for several months.
The Pornography Of Ruin is the first release to be engineered at HUSH's newly constructed studio, HOVVL Audio Environment in Hudson, New York, by frequent collaborator Ryan Slowey. The album was mastered by Jack Shirley at Atomic Garden in Oakland, California and completed with cover photography by urban explorer Adrian Ledezma and design by vocalist Charles Cure.
Stream HUSH's desolate, crushing, and somber The Pornography Of Ruin first through New Noise Magazine at THIS LOCATION.
Watch the video for "There Can Be No Forgiveness Without The Shedding Of Blood" HERE.
The Pornography Of Ruin will see release tomorrow, Friday, June 24th, digitally and on CD through the band HERE, and on cassette via Sludgelord Records HERE. The album will be released on vinyl in the months ahead.
In alignment with the album's release, HUSH has booked their first live shows since 2018 in support of The Pornography Of Ruin, heading out on a five-city run of East Coast shows, June 24th through 28th alongside their friends in Cowardice. They've also booked their first local show in several years, in Catskill, New York July 8th. Watch for additional dates to be posted throughout the months ahead.
HUSH Live:
6/24/2022 Riffhouse Pub – Chesapeake, VA w/ Cowardice, Knoll, Redundant Protoplasm
6/25/2022 DC Brau – Washington, DC w/ Foehammer, Cowardice, Et Mors
6/26/2022 Fotoclub – Philadelphia, PA w/ Cowardice, Quiet Man, Oldest Sea
6/27/2022 Saint Vitus Bar – Brooklyn, NY w/ Pharaoh, Cowardice
6/28/2022 Middle East Upstairs – Cambridge, MA w/ Cazador, Cowardice, Head In Hand
7/08/2022 The Avalon Lounge – Catskill, NY w/ Planning For Burial, Madeline Darby
After muscling their way onto the scene in 2014, HUSH has since issued albums through the likes of Dullest Records, Silent Pendulum Records, Fuzz Records, Sludgelord Records, as well as independent releases and more. In the years since their most recent album, Untitled II, the band has endured several lineup shifts that resulted in limited live outings, but the group remained focused on producing a follow-up record that would surpass their previous efforts on every front. To accomplish this, founding member Jordan Cozza built a recording studio in a barn in Hudson, New York and the group began shaping songs that would refine and encapsulate the ideas they had been pursuing since their inception.
Cure elaborates, "At the time the first song for this album was written, I was struggling to relearn how to put one foot in front of the other and confronting major personal transformations on both mental and physical levels. By the time the last song was completed, the world had become destabilized by a global pandemic as well as political upheaval and violence. With past HUSH material, we had always tried to write songs that captured a sense of impending disaster at a macro/abstract level, but at a remove from our personal lives. With The Pornography Of Ruin, given the environment we found ourselves in, that approach didn't seem useful anymore so we took those same ideas and personalized them on a deep level. I think the songs really communicate the feelings of helplessness and loss that were pretty universal to our experience of the last few years."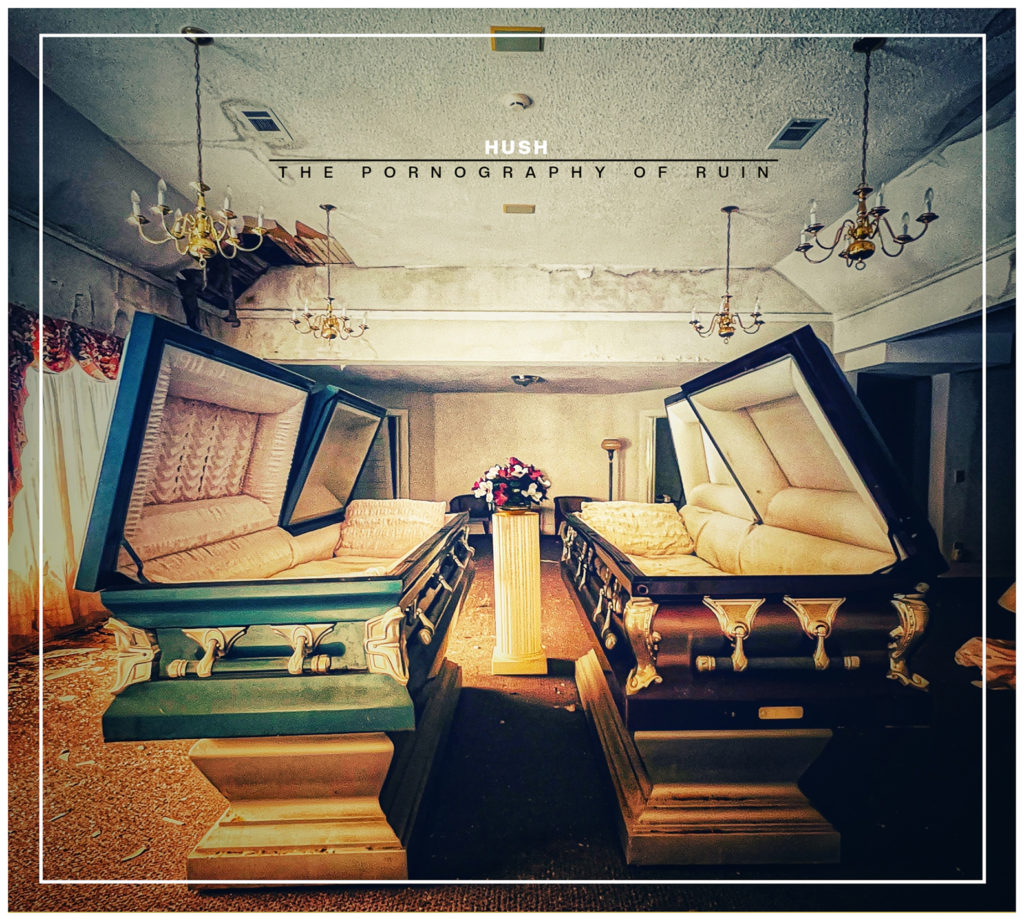 https://hushdoom.bandcamp.com
https://twitter.com/HUSHdoom
https://www.facebook.com/hushdoom
https://www.instagram.com/hushdoom
https://linktr.ee/hushdoom
The post HUSH: New Noise Magazine Streams The Pornography Of Ruin LP From New York Sludge/Crust Act With Former Members Of From Ashes Rise, Endicott, More; Album Drops Tomorrow As Northeast Tour Begins first appeared on Earsplit Compound.