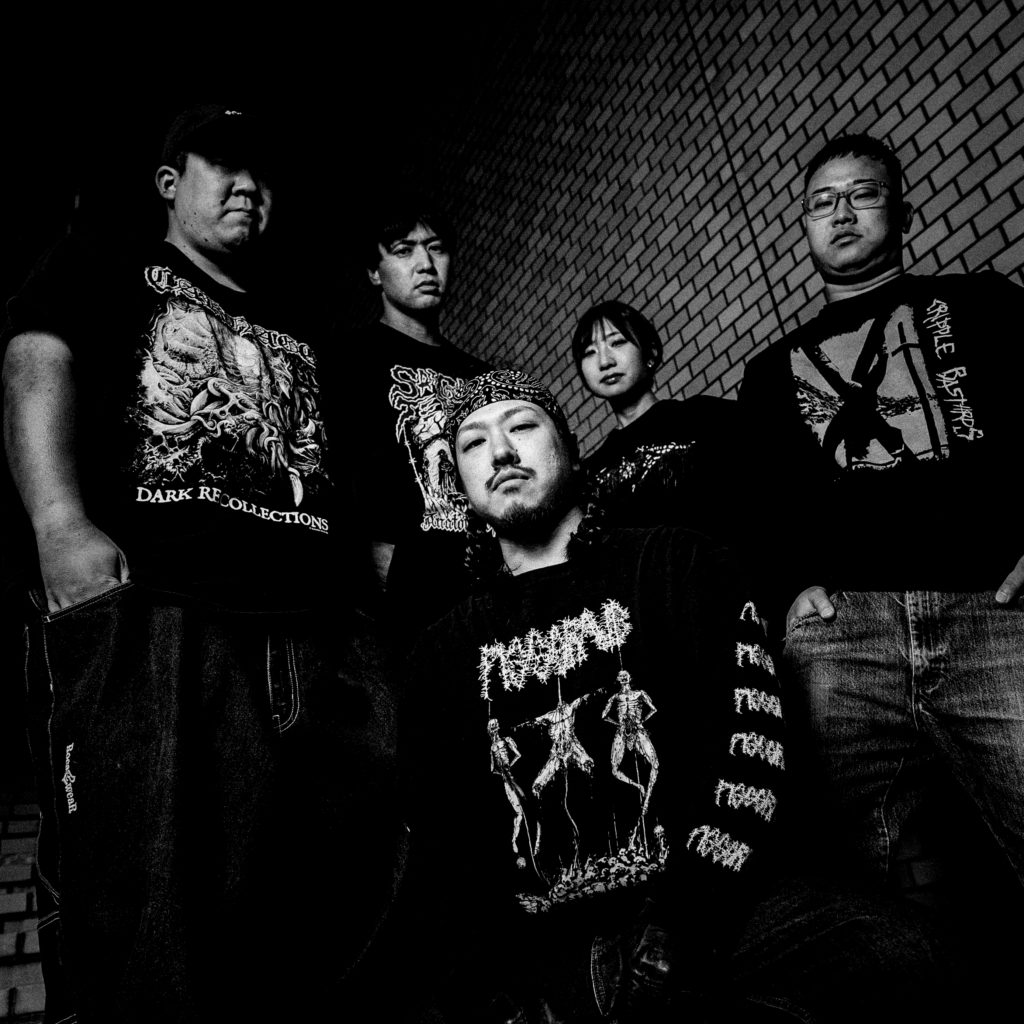 photo by Seijiro Nishimi
Tokyo, Japan-based metallic hardcore quintet KRUELTY has announced three new tours for the Winter and Spring months. The tour declarations follow directly in the wake of the recent announcement of the band's second LP, Untopia, nearing March release on Profound Lore Records.
Formed in Tokyo in the summer of 2017, KRUELTY has emerged as the most notable artist to find that sweet spot where heavy beatdown hardcore and '90s American/Scandinavian death/doom metal meet. This devastating amalgamation becomes the blueprint of brutality and slam the band unleashes. With KRUELTY, you will hear the ultimate convergence of some of the most punishing death metal riffs and the most mind-blowing breakdowns influenced by Japanese and '90s East Coast hardcore bands.
2020 saw the release of KRUELTY's debut album A Dying Truth and revealed itself as one of the heaviest albums that year. With their second LP, Untopia, the band will release an album even more massive in scope and ultimately heavier than their debut. The bulldozing seven-song record was produced by Taylor Young at The Pit Studios (Nails, Xibalba, Section H8) while the band was touring in the US earlier this year, mastered by Brad Boatright at Audiosiege (Obituary, Terminal Nation, Mindforce), and features artwork by Norwegian artist Sindre Foss Skancke.
In support of the album, KRUELTY will embark on a succession of tours across the globe. From February 10th through 12th they'll play three shows throughout New Zealand on the NZ Tour 2023. Days later, the Hell Across Australia tour will see them supporting Honest Crooks for seven shows running February 16th through 25th. KRUELTY will then return to Europe for the Untopia European Domination Tour 2023, running from April 12th to May 7th with special guests Gates To Hell on all dates and Splitknuckle from the 23rd to the 28th. See all confirmed dates below and find tickets for NZ HERE, AU tickets HERE, and EU HERE. Additional tour announcements should be expected in the weeks ahead.
KRUELTY's Untopia will see release through Profound Lore March 17th on LP, CD, CS, and digital, with preorders posted alongside the lead single, "Burn The System," HERE.
KRUELTY Tour Dates:
NZ Tour 2023:
2/10/2023 Last Place – Hamilton, HLZ
2/11/2023 Mothership – Auckland, AKL
2/12/2023 Valhalla – Wellington, WGN
Hell Across Australia w/ Honest Crooks:
2/16/2023 Vinnies Dive Bar – Gold Coast, QLD
2/17/2023 The Tomcat – Brisbane, QLD
2/18/2023 Newcastle Hotel – Newcastle, NSW
2/19/2023 Factory Floor – Sydney, NSW
2/22/2023 The Basement – Canberra, ACT
2/24/2023 The Workers Club – Melbourne, VIC
2/25/2023 Crown & Anchor – Adelaide, SA
Untopia European Domination w/ Gates To Hell, Splitknuckle (4/23-4/28):
4/12/2023 Le Temps Machine – Joué-Les-Tours, FR
4/13/2023 Orbeko Etxea – Llodio, ES
4/14/2023 Sala Rouge – Vigo, ES
4/15/2023 Gasoline ACD – Barreiro, PT
4/16/2023 Let's Go Rock Bar – Parla, ES
4/17/2023 La Deskomunal – Barcelona, ES
4/18/2023 Secret Place – Montpellier, FR
4/20/2023 Le Glazart – Paris, FR
4/21/2023 The Green Door Store – Brighton, UK
4/22/2023 The Cab – Newport, UK
4/23/2023 Deadwax – Birmingham, UK
4/24/2023 The Lubber Fiend – Newcastle, UK
4/25/2023 Flying Duck – Glasgow, UK
4/26/2023 Percy Picklebackers – Nottingham, UK
4/27/2023 Boom – Lees, UK
4/28/2023 New Cross Inn – London, UK
4/29/2023 Treftpunt – Gent, BE
4/30/2023 Bloodshed Fest – Hengelo, NL
5/03/2023 Pod Minoga – Poznan, PL
5/04/2023 Gerber 3 – Weimar, DE
5/05/2023 Kulturzentrum dasHaus – Ludwigshafen, DE
5/06/2023 Rocas – Luxembourg, LU
5/07/2023 Baroeg – Rotterdam, NL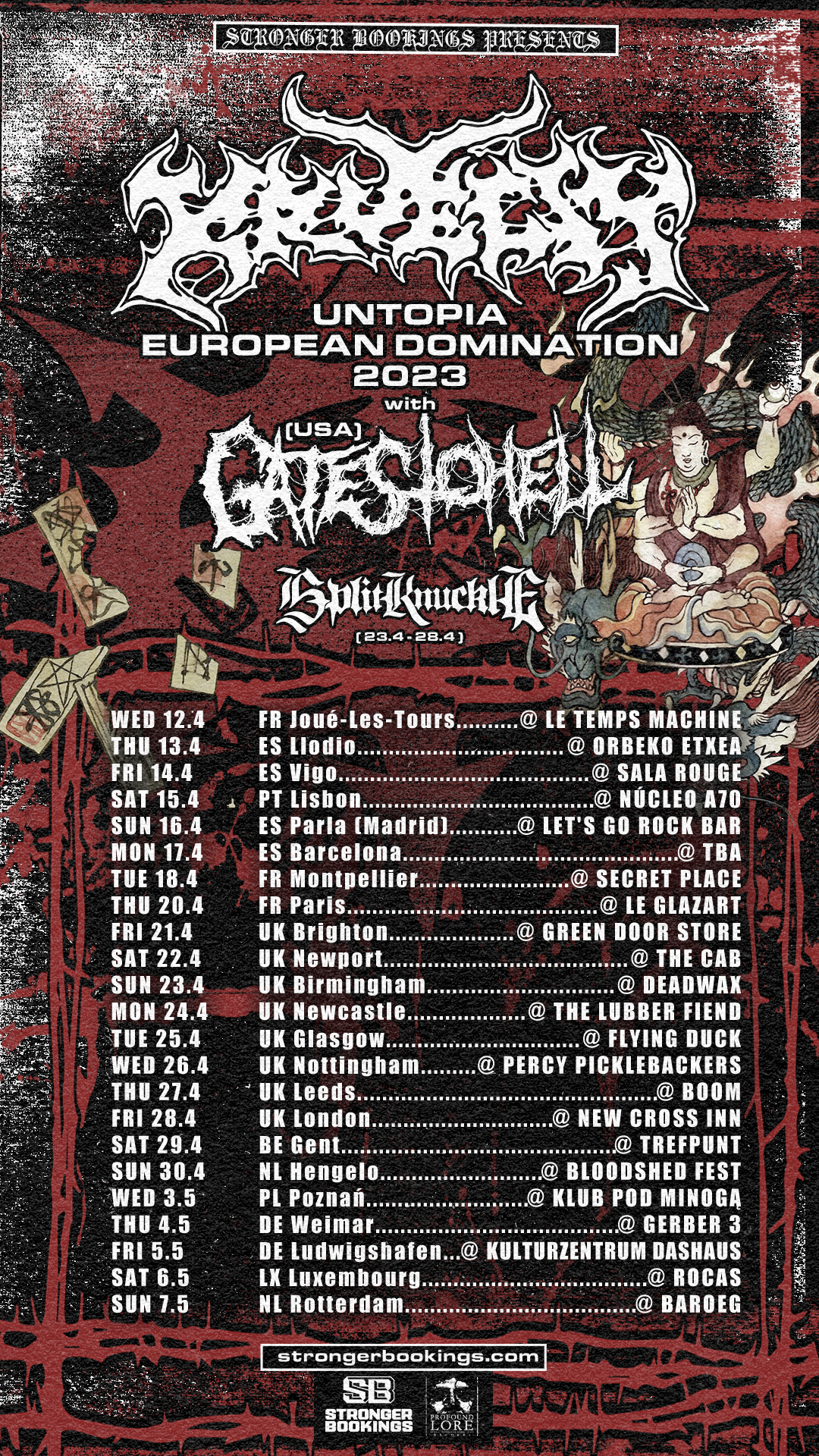 https://kruelty666.bandcamp.com
https://www.instagram.com/krueltyjphc
https://twitter.com/krueltyjphc
https://profoundlorerecords.com
https://www.profoundlorerecords.bandcamp.com
https://www.instagram.com/profoundlorerecords
https://twitter.com/profound_lore
https://www.facebook.com/profoundlorerecords
The post KRUELTY: Tokyo Metallic Hardcore Outfit Confirms New Zealand, Australian, And European Tours For This Winter And Spring; Second LP, Untopia, To See March Release On Profound Lore Records first appeared on Earsplit Compound.